The Big Hill Project area is located approximately 30 km northeast of the Nullagine township in the Eastern Pilbara of Western Australia. The project contains the Big Hill deposit where 22,871 metres of diamond and RC drilling have defined a JORC 2012 Mineral Resource of 38.5Mt at 0.09% WO3 (0.05% WO3 cut-off) comprising an Indicated Resource of 15.8Mt at 0.11% WO3 and an Inferred Resource of 22.7Mt at 0.09% WO3.  A breakdown of this resource is presented below in the JORC Resource Statements section.
Metallurgical testwork conducted on samples from Big Hill at bench and pilot scale have produced high quality tungsten concentrates at acceptable scheelite recoveries. This work has identified a simple and potentially low cost processing route.
Geology
Tungsten mineralisation at Big Hill is associated with vein-hosted scheelite within a tremolite-rich unit on the western margins of the Cookes Creek granite. The geometry of the Big Hill deposit is controlled by the overall shape of the tremolite-rich unit and the density of veins that host scheelite mineralisation.
Historical exploration identified additional targets that have not been adequately tested and warrant further investigation.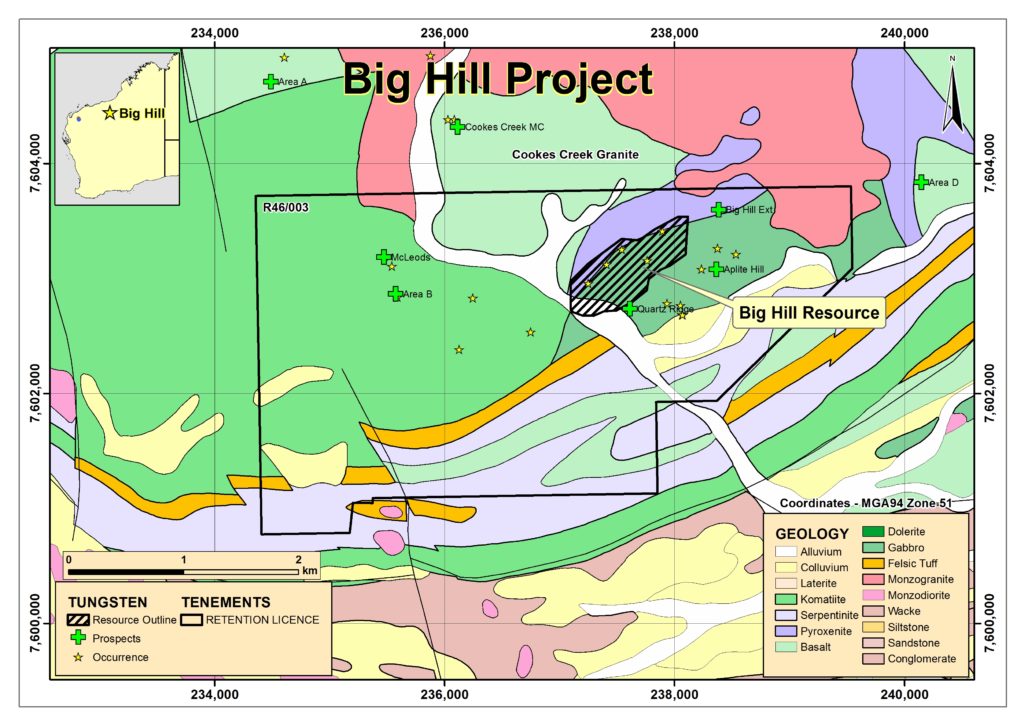 JORC Resource Statements
Big Hill (Pilbara) JORC 2012 Compliant1
Classification
Mt
WO3
(%)

WO3
(Kt)

Mo
(ppm)
Mo
(Kt)
Au
(g/t)
Au
(KOz)
Ag
(g/t)
Ag
(MOz)
Cu
(%)

Cu
(Kt)
Measured
–
–
–
–
–
–
–
–
–
–
–
Indicated
15.8
0.11
17
–
–
–
–
–
–
–
–
Inferred
22.7
0.09
19
–
–
–
–
–
–
–
–
Total
38.5
0.09
36
–
–
–
–
–
–
–
–
Note: Totals may differ from sum of individual numbers as numbers have been rounded in accordance with the Australian JORC code 2012 guidance on Mineral Resource reporting.
1. Refer ASX (Tungsten Mining) Announcement 23 June 2016, "Big Hill June 2016 Mineral Resource Update"