The Mt Mulgine Project is located within the Murchison Region of Western Australia, approximately 350km north northeast of Perth. Tungsten Mining has 100% of the tungsten and molybdenum rights on a contiguous group of tenements that have been the subject of significant previous exploration for tungsten and molybdenum.
Two near surface Mineral Resources have been delineated at the Mulgine Trench and Mulgine Hill deposits.  Currently, there is a combined Mineral Resource estimate of 219Mt at 0.11% WO3, 260ppm Mo, 0.12g/t Au and 5g/t Ag (0.05% WO3 cut-off) comprising Indicated Resources of 8.3Mt @ 0.18% WO3 and 130ppm Mo and Inferred Resources of 210Mt @ 0.11% WO3, 270m Mo, 0.12g/t Au and 0.05g/t Ag.  A breakdown of this resource is presented below in the JORC Resource Statements section.
Metallurgical testwork conducted in the 1970s/1980s indicates tungsten is present as coarse-grained scheelite that will respond well to conventional gravity separation and is capable of producing saleable concentrate.
Tungsten Mining is implementing a staged approach to the development of the Mt Mulgine Project that will support low capital start-up costs, directed at demonstrating a pathway to positive cashflow for the project and in turn, Tungsten Mining's shareholders.
The Company is implementing its strategic Development Plan for the Mt Mulgine Project, focussed on production from Mulgine Hill.  Substantial work has been completed and is described more fully in the Company's quarterly reports and ASX Announcements.
Geology
Tungsten-molybdenum mineralisation at Mt Mulgine is associated with the Mulgine Granite – a high-level leucogranite forming a 2km stock intruding the Mulgine anticline.
The granite intrudes a greenstone sequence composed of micaceous schists, amphibolite and talc-chlorite schist, which were formerly metasediments, mafic and ultramafic rocks respectively.
The intrusion is associated with intense hydrothermal alteration with late stage fluids containing tungsten, molybdenum, gold, silver, bismuth and fluorite. Mineralisation is zoned as follows:
• Porphyry-style molybdenum-only mineralization in the core of the granite.
• Principally tungsten mineralisation with accessory molybdenum, bismuth and fluorite at the Mulgine Hill Prospect on the granite contact.
• Tungsten and molybdenum mineralisation with accessory precious metals at the Mulgine Trench Prospect.
Exploration potential is excellent with numerous open positions at Mulgine Trench and Mulgine Hill.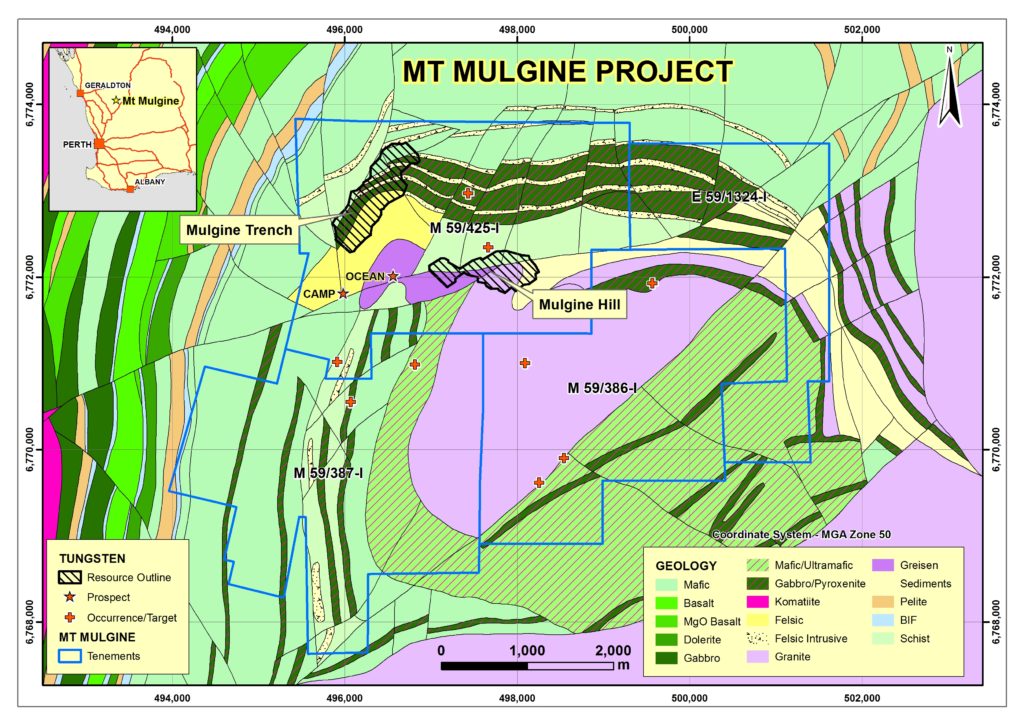 JORC Resource Statements
All Mineral Resources as reported at a cut-off grade of 0.05% WO3
Mulgine Trench (Mt Mulgine) JORC 2012 Compliant1
Classification
Mt
WO3
(%)

WO3
(Kt)

Mo
(ppm)
Mo
(Kt)
Au
(g/t)
Au
(KOz)
Ag
(g/t)
Ag
(MOz)
Cu
(%)

Cu
(Kt)
Measured
–
–
–
–
–
–
–
–
–
–
–
Indicated
175
0.11
190
290
51
0.14
770
6
32
0.04
69
Inferred
72
0.11
80
250
18
0.10
230
5
12
0.03
24
Total
247
0.11
270
280
69
0.13
1,000
6
44
0.04
92
Mulgine Hill (Mt Mulgine) JORC 2012 Compliant2
Classification
Mt
WO3
(%)

WO3
(Kt)

Mo
(ppm)
Mo
(Kt)
Au
(g/t)
Au
(KOz)
Ag
(g/t)
Ag
(MOz)
Cu
(%)

Cu
(Kt)
Measured
–
–
–
–
–
–
–
–
–
–
–
Indicated
8.3
0.18
15
128
1.1
–
–
–
–
–
–
Inferred
4.0
0.12
4.8
118
0.5
–
–
–
–
–
–
Total
12.3
0.16
20
125
1.5
–
–
–
–
–
–
Mt Mulgine (Total)

Classification
Mt
WO3
(%)

WO3
(Kt)

Mo
(ppm)
Mo
(Kt)
Au
(g/t)
Au
(KOz)
Ag
(g/t)
Ag
(MOz)
Cu
(%)

Cu
(Kt)
Measured
–
–
–
–
–
–
–
–
–
–
–
Indicated
183
0.11
205
290
52
0.13
770
5
32
0.04
69
Inferred
76
0.11
85
240
18
0.09
230
5
12
0.03
24
Total
259
0.11
290
270
71
0.12
1,000
5
44
0.03
92
Note: Totals may differ from sum of individual numbers as numbers have been rounded in accordance with the Australian JORC code 2012 guidance on Mineral Resource reporting.
1. Refer ASX (Tungsten Mining) Announcement 4 May 2020, "Mineral Resource Estimate Update for Mulgine Trench Deposit"
2. Refer ASX (Tungsten Mining) Announcement 12 April 2019, "Update on Activities at Mt Mulgine"